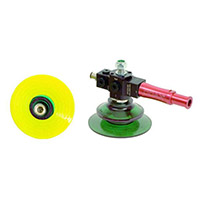 VGS™5010 BF110P
Patented COAX® technology.

The suction cups are specially designed for handling larger parts, such as car body sheets.

The soft, flexible lip makes the cup suitable for curved or uneven surfaces and the dual hardness version, PU30/60, is also recommended for rough or rugged surfaces to prevent micro-leakage, which can occur on plastic or composite work pieces.

Available with a two or three-stage COAX® cartridge MIDI. Choose an Si cartridge for extra vacuum flow, a Pi cartridge for high performance at low feed pressure or an Xi cartridge when high flow and deep vacuum is needed.

The three-stage cartridge will give extra high initial vacuum flow, suitable in high speed applications.

Easy installation and flexible positioning with several mounting options.