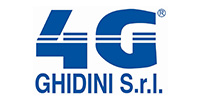 4G Ghidini
4G GHIDINI is:
– Reliability and resilience;
– Ad-hoc solutions for every need of the customer;
– Productive and commercial seriousness;
– Customer satisfaction;
– The stainless steel ball valve par excellence!
The company 4G GHIDINI was born in Lumezzane, an important industrial district located in Lombardy in the province of Brescia, in 1978. A thirty-year experience in the sector, the certification of the quality of the raw materials and of the productive system, the rapidity of deliveries and the complete customer care are a confirmation of the added value of every single item which is produced by 4G GHIDINI.