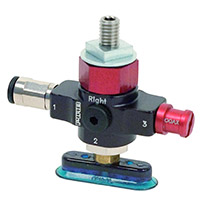 VGS™2010 OF10x30P
Patented COAX® technology.

Suitable for small, oblong objects with flat surfaces.

Fair stability and little inherent movement.

Thanks to good friction of the rubber material the cups can withstand high shear forces at rapid acceleration.

The suction cups have cleats that prevent thin objects from being disfigured.

Available with a two-stage COAX® cartridge MICRO. Configurable to your specific needs. Choose Bi for low feed pressure, Si for high vacuum flow, Xi for extra vacuum and Ti at 0.4/0.6 MPa for extra capacity/dirt tolerance.