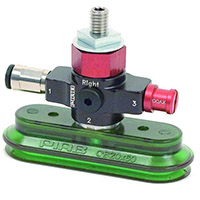 VGS™2010 OB20x60P
Patented COAX® technology.

Suitable for handling small, oblong objects and for level adjustment. Can handle objects with height differences and varying shapes.

Lifting movement to separate small and thin objects.

Available with a two-stage COAX® cartridge MICRO. Configurable to your specific needs. Choose Bi for low feed pressure, Si for high vacuum flow, Xi for extra vacuum and Ti at 0.4/0.6 MPa for extra capacity/dirt tolerance.