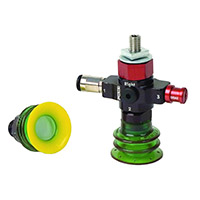 VGS™2010 BX25P
Patented COAX® technology.

Suitable for level adjustment and for uneven and porous materials such as cardboard, etc.

In the two-coloured version the bellows and the sealing lip are of different hardness, which makes the suction cup strong and, at the same time, soft and flexible with good sealing capability.

A filter disc inside the cup keeps dust out of the system.

Available with a two-stage COAX® cartridge MICRO. Configurable to your specific needs. Choose Bi for low feed pressure, Si for high vacuum flow, Xi for extra vacuum and Ti at 0.4/0.6 MPa for extra capacity/dirt tolerance.