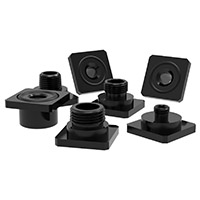 T-slot adapters
The Piab T-slot adapter enables Piab suction cups to mount to existing boom assemblies and end-of-arm tooling used in the automotive industry. The T-slot adapter threads into the Piab cup fitting and can then be mounted accordingly.

The suction cups can be changed quickly and with great ease.

Non-rotating feature — good when using oval suction cups.