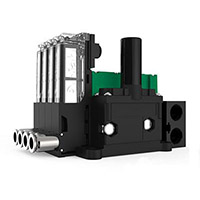 piPUMP
Slim package (10 mm width) and lightweight thanks to high-performance plastic parts.

High operational reliability, in case of fluctuating or low compressed-air pressure.

Large vacuum flow in relation to energy consumption and dimensions.

Quick response time when deep vacuum is needed.

Vacuum non-return valve (option).

Blow-off check valve included.

Cleanable and replaceable filter element.