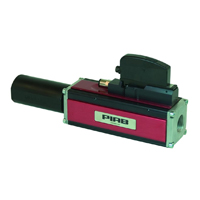 P6010 CU
COAX® P6010 multistage ejector with Pi, Si or Xi vacuum cartridge(s).

Integrated Control Unit (CU) with electric valves for vacuum on-off and blow-off control.

Mechanical valve for blow-off flow adjustment.

Configurable and modular design.

On CU units for P6010, there is an option to blow from a separate port to maximize blow-off efficiency in the vacuum system.

1-4 cartridges.