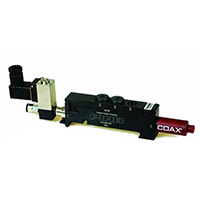 P3010 Solenoid Valve
Patented multistage COAX® cartridge – MINI – with Pi, Si, Xi cartridge.

DS 23 3/2 valve suitable for compressed air, filtration 40μ

5 W solenoid

Manual override

Includes a flow-through silencer and a built-in vacuum filter for harsh environments.

Slim, compact, configurable and modular design.

Low weight.