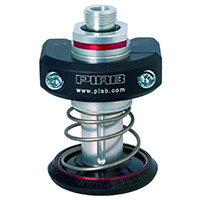 Level compensator LC30
Tailor made for the Vacuum Gripper System, VGS™, but can also be used together with other Piab products.

Developed for use with standard profile systems.

Easy installation with the option of fine adjustments and positioning of the suction cup.

Non-rotational for use with, for example, oval suction cups. Can easily be made rotational.

Quiet and reliable level compensation with load protection and shock absorbtion.