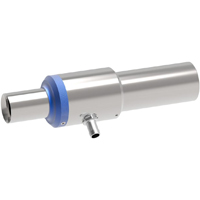 Ejector 300
Compact ejector used when a large flow with low vacuum is desired.

Air consumption and capacity can be adjusted.

Small amounts of material and contaminants can be conveyed.

Available in stainless steel or aluminium.

When fitted with an insert, the ejector changes characteristics providing higher vacuum at lower flow.

Delivered with a 3/8″ hose nipple for the compressed air connection.