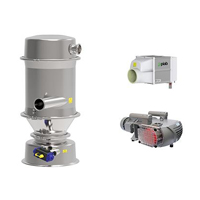 Configure your piFLOW®p
COAX® Technology is used in the pump. The most energy efficient way to produce vacuum.

The material used is ASTM 316L.

piFLOW®p is easy to install and easy to use.

It is ATEX Dust and Gas certified.

Antistatic filter and seals are available.

It has automatic filter cleaning.

All material in contact with the conveyed product fulfil the requirements of FDA.

The conveyor is designed according to USDA guidelines.