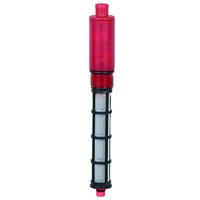 COAX® MINI Xi10-3 FS
Three-stage COAX® cartridge – MINI.

Includes a flow-through silencer and a built-in vacuum filter for harsh environments.

High vacuum flow at deep vacuum levels to 94 – kPa.

Quick response time when deep vacuum is needed.

Suitable for handling sealed objects with high pick-up speed.

Large vacuum flow in relation to energy consumption.