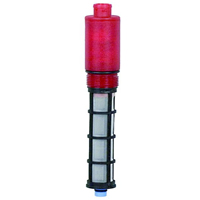 COAX® MINI Si08-3 FS
Three-stage COAX® cartridge – MINI – with extra high initial vacuum flow.

Includes a flow-through silencer and a built-in vacuum filter for harsh environments.

Large vacuum flow in relation to energy consumption.

Good for handling porous materials or if leakage is present. Recommended for high speed applications.