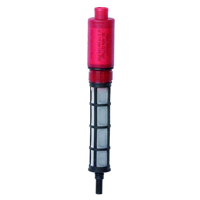 COAX® MINI Pi12-3 FS
Three-stage COAX® cartridge – MINI – with high initial vacuum flow.

Includes a flow-through silencer and a built-in vacuum filter for harsh environments.

Vacuum level to 90 -kPa at  low feed pressure.

High system reliability in case of fluctuating or low feed pressure.

Suitable for handling sealed objects with high pick-up speed.