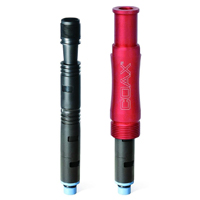 COAX® MIDI Si32-3
Three-stage COAX® cartridge – MIDI – with extra high initial vacuum flow.

Large vacuum flow in relation to energy consumption.

Suitable for fast evacuation of large volumes when handling porous materials or if surface leakage is present.

Efficient generator of blow-air. Recommended for low overpressures (0 – 0.05 MPa).