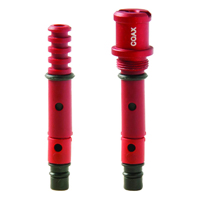 COAX® MICRO Ti05-2
Two-stage COAX® cartridge – MICRO – probably the world's smallest multistage vacuum ejector.

Larger flow and evacuation capacity vs. the other  MICRO cartridges.

The low weight makes it suitable to integrate close to the suction point in high speed pick-and-place applications of small objects.

Dirt tolerant cartridge design.

Suitable for leaking objects at 0.6 MPa feed pressure and sealed objects at 0.4 MPa feed pressure.