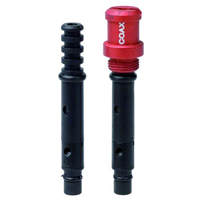 COAX® MICRO Bi03-2
Two-stage COAX® cartridge – MICRO – probably the world's smallest multistage vacuum ejector.

Vacuum level to 83 -kPa at extremly low feed pressure.

High operational reliability in case of fluctuating or low compressed-air pressure.

The low weight makes it suitable to integrate close to the suction point in high speed pick-and-place applications of small objects.

Suitable for handling sealed objects.