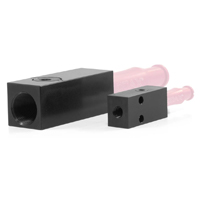 Body for COAX® cartridge
Aluminium bodies for COAX® MINI and MIDI cartridges.

All 2-stage and 3-stage cartridges, equipped with a red aluminium holder, will fit.

The mini body has a stackable design with extra port for sensing or blow-off.

The midi body has a special vacuum-exhaust inline design, which minimizes the influence of dust on the cartridge.

Cartridge has to be ordered separately.